Yesterday (February 27 2015) I issued new earthquake watch zones along the West Coast of the United States, Mexico, and South America.
---
Today (February 28, 2015) a 4.7M earthquake struck inside the warning zone marked with a red box over Mexico.
---
Here are the statistics on this event from the USGS:
http://earthquake.usgs.gov/earthquakes/eventpage/usc000tu1w#general_summary
M4.6 – 111km WSW of El Dorado, Mexico
Event Location
Data Source US1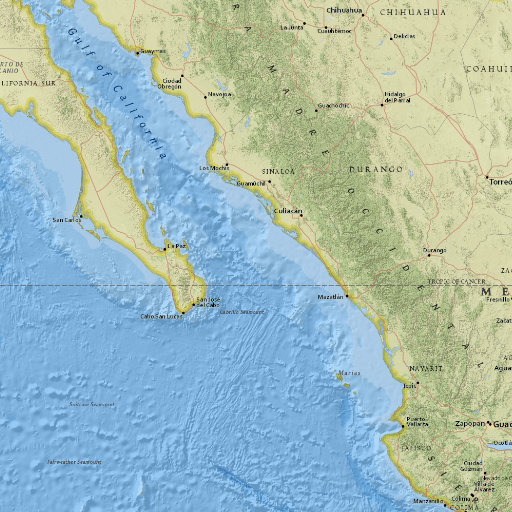 Event Time
2015-02-28 20:41:27 (UTC)
2015-02-28 14:41:27 (UTC-06:00) in your timezone
Nearby Cities
111km (69mi) WSW of El Dorado, Mexico
116km (72mi) SW of Navolato, Mexico
117km (73mi) SW of Campo Gobierno, Mexico
124km (77mi) SW of Costa Rica, Mexico
1077km (669mi) WNW of Mexico City, Mexico
Magnitude /

uncertainty

4.6 mb

± 0.0

Location /

uncertainty

23.915°N 108.365°W

± 9.0 km

Depth /

uncertainty

16.4 km

± 5.1

Origin Time
2015-02-28 20:41:27.370 UTC
Number of Stations
–
Number of Phases
103
Minimum Distance
431.36 km (3.88°)
Travel Time Residual
1.44 sec
Azimuthal Gap
166°
FE Region
Gulf of California (49)
---
---
If you like my earthquake research, please consider giving to my fundraiser.
Viewer support is needed!! I don't sell anything, and do not charge for my information. I want to always keep it this way.
In exchange for all free work, I offer this donation option. You choose what you want to give, what you think my work is worth.
Secure link to give is here:
https://www.paypal.com/cgi-bin/webscr?cmd=_s-xclick&hosted_button_id=XBLABY4M6QYLL
Many, many, thanks to all who give! Much love to all viewers/readers regardless of giving!
---
---